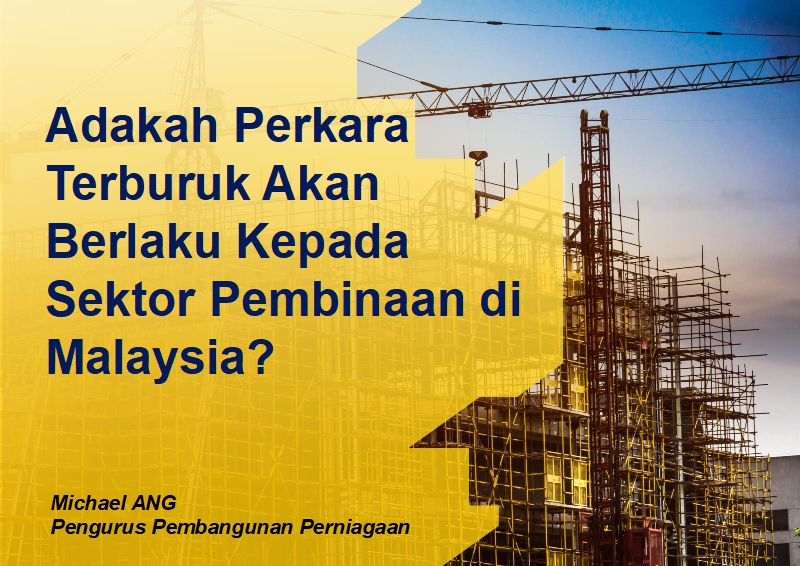 Adakah Perkara Terburuk Akan Berlaku Kepada Sektor Pembinaan di Malaysia?
Pengarang: Michael ANG | 29 April, 2019
Sektor pembinaan Malaysia telah jatuh secara drastik sejak suku tahun ketiga tahun 2018, selepas kerjaan Malaysia membuat keputusan untuk menangguhkan beberapa projek-projek infratruktur mega untuk disemak semula, termasuklah 'East Coast Rail Link' (ECRL), 'Kuala Lumpur-Singapore High Speed Rail' (HSR), 'Mass Rapid Transit Line 3' (MRT3) dan 'Light Rail Transit 3' (LRT3). Kadar pertumbuhan GDP telah jatuh daripada (Q3 18) kepada 2.6% (Q4 18) (Jabatan Perangkaan Malaysia, 2019) disebabkan isu pembinaan tersebut. Walaubagaimanapun, keadaan dilihat kembali pulih selepas beberapa pengumuman dibuat oleh Kerajaan baru-baru ini.
Selepas rundingan dibuat dengan China Communication Construction Company (CCCC) iaitu kontraktor utama ECRL selama beberapa bulan, Kerajaan membuat pengumuman bahawa projek tersebut akan disambung semula dengan kos pembinaan yang lebih rendah iaitu RM 44 billion berbanding RM66 bilion sebelumnya. Walaupun kos pembinaan telah diturunkan, kebangkitan semula ECRL telah bertindak sebagai pemangkin kepada seluruh sektor pembinaan Malaysia. Syarikat-syarikat pembinaan tempatan dijamin dengan kadar penyertaan projek yang tinggi, daripada 30% kepada 40%. Pembekal bahan pembinaan tempatan juga dijangka mendapat kelabihan daripada pemulihan projek ECRL tersebut.
Selain daripada project ECRL, Perdana Menteri Malaysia Tun Dr. Mahathir Mohamad juga membuat pengumuman bahawa projek Bandar Malaysia yang ditinggalkan akan dihidupkan semula. Satu perjanjian rangka kerja telah dimeterai antara Malaysia sak Kerajaan China ketika lawatan kerja Tun Dr. Mahathir ke China baru-baru ini ("Bandar Malaysia Kembali Bergerak", 2019). Pembangunan seluas 196 hektar itu dianggarkan menjadi penyumbang Nilai Pembangunan Kasar Malaysia sebanyak RM 200 bilion.
Selain menghidupkan kembali dua projek infrastruktur mega, pelantikan perunding penasihat teknikal telah dirancang untuk mengkaji aspek teknikal bagi projek HSR juga telah meningkatkan harapan kebangkitan semula projek tersebut. Kerajaan mengharapkan perunding penasihat teknikal yang akan dilantik untuk mengkaji dan mengesahkan aset infrastruktur Malaysia dan dapat mengusulkan cadangan pengurangan kos untuk projek tersebut sebelum tempoh akhir penggantungan pada Mei 2020 (Shankar, 2019).
Bank dunia menyatakan bahawa pemulihan ECRL dan projek Bandar Malaysia akan memberi impak yang positif kepada ekonomi Malaysia dalam jangka masa yang tidak lama (Bernama, 2019). 'Hong Leong Investment Bank Research' juga menjangkakan bahawa keadaan terburuk bagi sektor pembinaan Malaysia telah berakhir dengan menghidupkan semula projek ECRL (Ho, 2019). CIMB Research menganggarkan nilai potensi kerja-kerja pembinaan dibentuk dari pemulihan projek Bandar Malaysia adalah di antara RM 5 bilion dan RM 6 bilion. Syarikat pembinaan tempatan, terutamanya kontraktor dan pembekal bahan binaan dilihat akan mendapat kelebihan besar dari pengenalan projek bandar bawah tanah, taman rakyat, 10,000 rumah mampu milik dan pembangunan-pembangunan lain di bawah projek Bandar Malaysia (Zainul, 2019).
Senario terburuk sektor pembinaan kelihatan sudah berakhir, namun masih tidak dapat dijangka jika sektor ini akan kembali asal seperti tempoh sebelum Pilihan Raya Umum 14. Industri ini diramalkan akan terus mencabar dalam jangka pendek kerana margin normal pembinaan yang sempit, yang disebabkan oleh persaingan pasaran yang lebih tinggi dan bajet kerajaan yang terhad (Ho, 2019).
Kesimpulannya, sector pembinaan Malaysia dijangka akan kembali positif selepas projek ECRL dan Bandar Malaysia kembali bergerak. Peningkatan permintaan berkaitan pembinaan diharapkan dapat memberi keseimbangan kepada sumber pembinaan yang banyak di negara ini dan akhirnya membawa sektor pembinaan keluar dari situasi terburuk dalam jangka masa yang cepat.
Michael ANG
Pengurus Pembangunan Perniagaan
IPM Professional Services Sdn Bhd
Rujukan::
**This Malay translation is for reference only. If the meaning of the Malay translation is inconsistent with the original English version, the original English version shall prevail.


Artikel dalam format PDF »