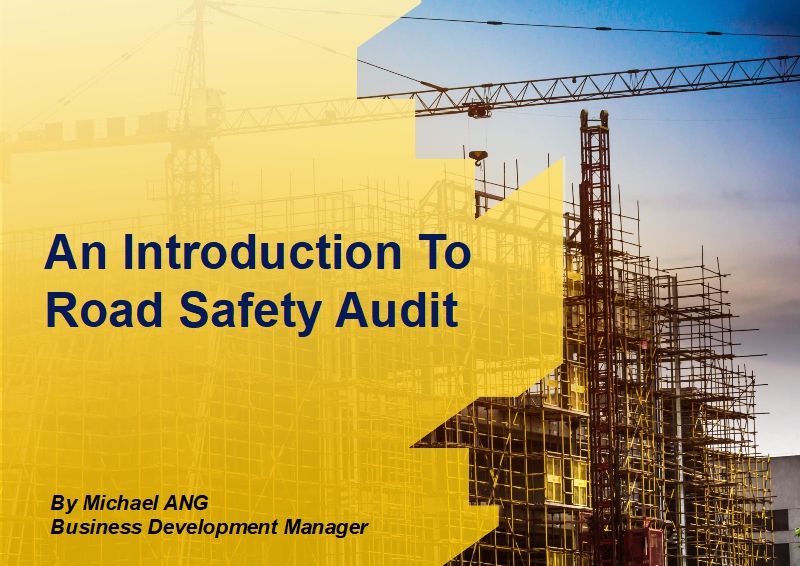 An Introduction To Road Safety Audit
Author: Michael ANG | 26 November, 2020
INTRODUCTION
Road Safety Audit (RSA) is defined as the systematic process of examining the planning, design, and construction of road project, and of the feature and operation of an existing road by independent and qualified auditors to determine any potential hazard of road feature or operational arrangement that may adversely affect the safety of any road user [1]. In Malaysia, RSA is a requirement by Jabatan Kerja Raya (JKR) when a new road is proposed or built. There are a few objectives to be achieved by conducting RSA [2]:
To identify whether the design by the consulting engineer from the planning to the operational stage of the proposed road project is accordance with all relevant design guidelines.
To determine road safety deficiencies at different stages during the proposed road development project.
Eliminate deficiencies at the most decent time to reduce costs and minimum disruption to the design and construction process.
WHAT ARE THE CRITERIA WE LOOK FOR IN RSA?
Road Safety Auditors are engaged to review and provide their professional opinion on the proposed road design by the project consulting engineers. Generally, auditors inspect the road design from a few aspects [3]:
Design mistakes or non-compliance
Lack of attention to design detail
Lack of knowledge of road safety issues
Interaction of design elements
Substandard provisions for vulnerable road users
Poor or misleading road design
FIVE STAGES OF ROAD SAFETY AUDIT
There are five stages when RSA is ideally conducted during the development of road projects [2]:
Stage 1: Feasibility and Planning Stage
RSA Stage 1 is conducted to determine safety problems associated with overall design concepts, standards, and classification of road development.
Stage 2: Preliminary Design Stage
RSA Stage 2 is carried out to review of the proposed design and the process of land acquisition and project layout, i.e. design criteria, cross-section, road alignments, interchanges or junctions, access control, lane and carriageway layouts, sight distances, 'Right-of-Way' requirements and provisions for other users (motorcyclists and pedestrians). The detailed design shall not have proceeded before the resolution of each road safety items identified in this stage.
Stage 3: Detailed Design Stage
RSA Stage 3 is to audit and inspect the features such as sight distance, the adverse combination of vertical and horizontal alignment, gradients, interchanges/ intersections, road markings, drainage, roadside safety, traffic signage and controls, street lightings, landscape features, and provisions for special road users. Mitigation factors shall be proposed for design features that could not be altered. Similarly, the project shall not have proceeded to the construction stage until the safety items determined in Stage 3 had been fully resolved.
Stage 4: Traffic Management Plan (TMP)/ During Construction/ Pre-opening
RSA Stage 4 is broken into 3 parts, which are Traffic Management Plan (TMP) auditing (early stage of construction), during construction (50% of project progress), and pre-opening. The requirement of each stage is decided by JKR and generally determined by the project scale and complexity.RSA Stage 4 is conducted to inspect whether the traffic management and the construction works carried out are according to the specifications and the proposed designs. The actual placement for all road features must be ensured in the correct position. Emphasis shall be given to all road user groups to ensure that desirable road safety standards are met.
Stage 5: After Construction/ Operational Stage
RSA Stage 5 is carried out to identify the road safety problems and hazards which may exist due to the traffic operation. The safety hazards such as traffic signs obstruction and sight distance impairing due to the mature landscaping (grown trees and foliage) shall also be determined at this stage. The inspection shall be conducted for both day and night to inspect the inadequacies in road delineation and visibility.
ROAD INFRASTRUCTURE ELEMENTS IN RSA
There are 7 major road infrastructure elements which are audited as follows [1]:
Road Geometry: Geometry of road shall include access control, horizontal and vertical alignment, visibility, cross-section, and intersection. The design standard of the road geometry shall be following the requirements of traffic based on specific standards recommended by JKR and AASHTO.
Traffic signs: The existence of traffic signs intended to ensure road safety and to inform road operation to every road user. There are 3 categories of traffic signs, consists of guide signs, warning signs, and regulatory signs. General design considerations on traffic signs are colours, lettering and borders, symbols, post and mounting, and material used as mentioned in ATJ 2E/87.
Road marking: Road marking plays an important role in transmitting road information and requirements to road users, which might not be feasible by using upright signage. Several aspects must be considered when auditing are illumination, colours, and dimension as mentioned in ATJ 2D/85.
Street lighting: The purpose of the street light installation is to enhance the safety of road users at night. Several audit aspects for the street lights are light pole location, rate of lighting, and design of the lighting system.
Width and road shoulder: The vehicle speed limit is affected by the condition of the road width in a certain area. Road width shall be designed appropriately according to the speed limit of the area.
Road barriers: Generally, road barriers are specified in three categories, which are permanent barriers, semi-permanent barriers, and flexible barriers. The road barrier should be designed with its optimum height based on its proper functioning.
Traffic signal: Traffic signal is a device used to facilitate the movement of road vehicles and pedestrian traffic. Several criteria to be considered in traffic signal design to ensure operation efficiency are signal phasing, signal faces, appropriate signal installation, and signal hardware.
CONCLUSION
RSA is an important measure to enhance and ensure the safety of road users. The RSA is not purely conducted due to JKR's requirements but also as insurance for all road users that the designed road is safe to use. Road safety auditors must act professionally to audit and inspect the proposed design provided to ensure every single element of the road design comply to design standards and the safety of every road user can be protected.
Michael ANG
Business Development Manager
IPM Professional Services Sdn Bhd
References:
[1] M. I. Masirin, N. A. Mohamad, & N. Samsuddin (2016). Analysis of Road Infrastructural Audits Along Jalan Batu Pahat Kluang Malaysia: A Case Study. ARPN Journal of Engineering and Applied Sciences, Volume 11, No. 24, Page 14101 – 14105. Retrieved from
https://www.researchgate.net/publication/324262288_ANALYSIS_OF_ROAD_INFRASTRUCTURAL_AUDITS_ALONG_JALAN_BATU_PAHAT-KLUANG_MALAYSIA_A_CASE_STUDY
[2] R. Wong (2019). Road Safety Audit Practice in Malaysia. http://rsswpiarckl2019.miros.gov.my/registration/assets/slides/RSSWKL2019-Keynote-Speaker-5-Richard-Wong-Chuen-Fun.pdf. PowerPoint Presentation.
[3] M. S. Saiful & N. H. T. Aurus (2015). Introduction to Road Safety Audit: Malaysia Practice. https://www.slideshare.net/hisyamaurus/road-safety-audit-malaysian. PowerPoint Presentation.


View Article in PDF