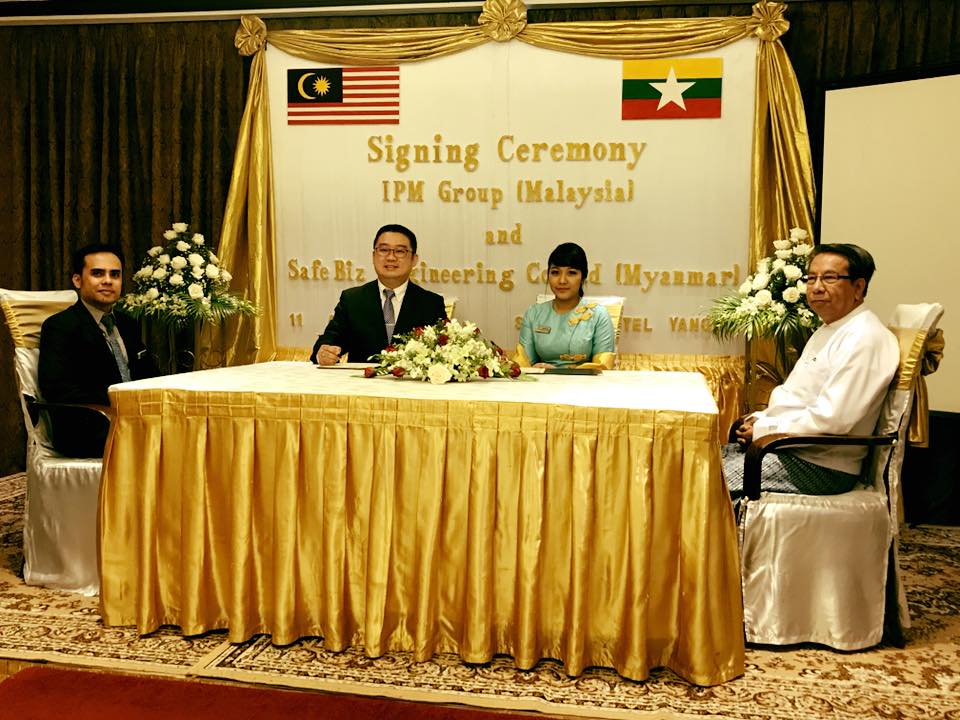 Franchise Agreement Signed between IPM and SafeBiz Engineering Co. Ltd.
A franchise agreement signing ceremony between IPM Engineering Sdn. Bhd. (IPME) and SafeBiz Engineering Co. Ltd. (SAFEBIZ) was held in Sedona Hotel Yangon, Myanmar on 11th August 2017. The agreement was signed between the Managing Director of IPME, Ir. Justin Lai, and Managing Director of SAFEBIZ, Miss Myat Myitzu, witnessed by Mr. Mohd Zahiruddin Nordin of MATRADE's Trade Commissioner Office of Yangon, Myanmar and Mr. Aung Myint, Vice President of Myanmar Engineering Council (MEC) and President of Myanmar Engineering Society (MES).
The signing was also witnessed by Deputy Director General of Ministry of Construction, Mr. Nay Aung Ye Myint; President of MEC, Dr. Charlie Than; Vice Presidents of MES, Mr. Khin Maung Htay, Mr. Lin & Mr. Ko Ko Kyi; President of CQHP, Mr. Khin Maung Tint; General Secretary of MES, Mr. Khin Maung Win; and last but not least, Daw Si Than, the Former Vice President of MES.
The ASEAN Economic Community (AEC) has emerged as a growing force in global affairs. It is the seventh-largest economy in the world, with a combined GDP of $2.4 trillion, a population of more than 620 million, and the 3rd fastest growing major Asian economy after China and India. Services trade liberalisation in the AEC encourages more participation in a market to create a competitive environment while offers opportunities for transfer of capital, expertise, and technology among ASEAN countries. As the saying goes, policy creates trend, and trend creates business opportunities.
The very first international franchise agreement signing affirmed IPME's first step in moving towards its vision of becoming ASEAN's largest professional consultancy firm in the building and construction industry, contributing to the great civilisation in ASEAN region. The signing also marks a big step in engineering knowledge transfer between Malaysia and Myanmar. This collaboration helps in expanding and promoting Malaysian engineering services to Myanmar's market.
"ASEAN engineering services has been liberalised. It's time to expand to ASEAN!" said Ir. Justin Lai. "Myanmar has huge potential among ASEAN's market as it has just started to develop vigorously in these recent years. From the statistics, I foresee Myanmar's construction industry will enjoy an annual growth rate of over 10% from year 2017 until 2020. Thus, this is the perfect timing to invest and expand engineering consultancy services into Myanmar's market."
Both parties will uphold the value of professionalism, excellence, efficiency and reliability to deliver first class quality services to clients, ultimately catalysing the civilisation progress within ASEAN community.
---