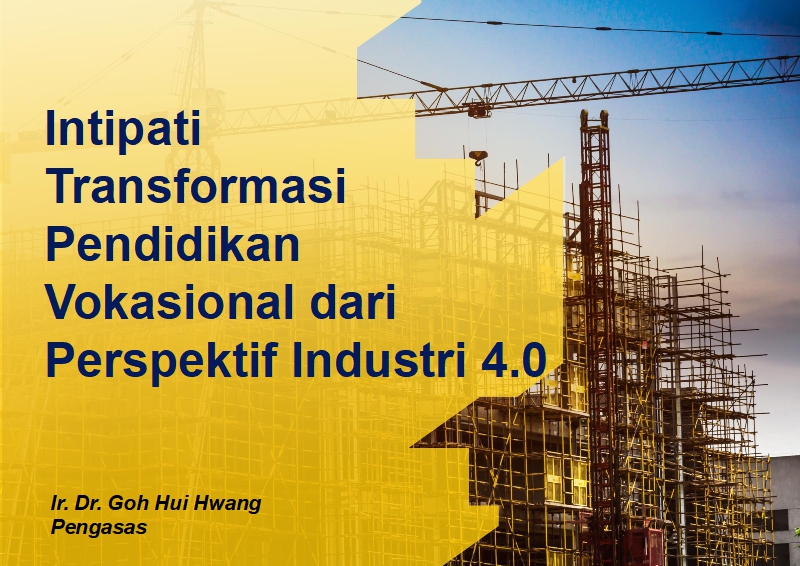 Intipati Transformasi Pendidikan Vokasional dari Perspektif Industri 4.0
Pengarang: Ir. Dr. Goh Hui Hwang | 27 Julai, 2018
Intipati transformasi pendidikan vokasional adalah satu perubahan kepada budaya pendidikan vokasional. Industry pembuatan yang kukuh memerlukan sisteem pendidikan vokasional yang kuat, manakala system pendidikan vokasional yang kuat memerlukan budaya pendidikan vokasional yang padu. Justeru itu, pendidikan vokasional Malaysia akan berubah kepada "pendidikan vokasional 4.0", ianya perlu 'dilahirkan semula'. Revolusi 'budaya pendidikan vokasional' dimanifestasi kepada 3 aspek utama:
Dari segi konsep, pendidikan vokasional bukan sahaja 'tulang belakag' bag pembangunan industri perkhidmatan, tetapi ianya juga adalah sebahagian daripada industry itu sendiri. 'Pendidikan Vokasional 4.0' adalah berbeza daripada pendidikan vokasional 1.0, 2.0 dan 3.0. jika 'Pendidikan Vokasional 1.0' mengetengahkan kualiti profesional tradisional dalam kerjaya, maka 'Pendidikan Vokasional 2.0' mengetengahkan pengkhususan berdasarkan bidangbidang khusus dan pendidikan asas. 'Pendidikan Vokasional 3.0' pula mengetengahkan kualiti profesional yang berorientasikan tanggungjawab dalam tindakan-tindakan yang dibuat, maka 'Pendidikan Vokasional 4.0' akan mengetengahkan proses kualiti profesional dan proses pengembangan kualiti profesional yang berorientasikan pengalaman dan saintifik dalam dunia kerja digital. Menurut Dr. Gert Zinke, Institut Pendidikan Vokasional Persekutuan, yang mempercayai 'Pendidikan Vokasional 4.0' adalah satu visi yang memerlukan perubahan, termasuklah pemahaman dalam kerjaya masa depan, merekabentuk dang pengajaran kepada pendidikan vokasional, proses pengajaran, kelayakan kendiri, pendidikan dan sumber rujukan serta lain-lain [1].
Untuk mencapai sesuatu 'integrasi' bagi sekolah-perusahaan yang sebenar, dengan sekadar hanya statik dalam tahap 'kerjsama', 'Industri 4.0' telah mencetuskan pelbagai perubahan, dan pelarasan perlu dibuat mengikut kelayakan terhadap peralatan kerja, bahan-bahan kerja serta organisasi kerja tersebut. Ia dapat dilihat bahawa dunia pekerjaan industry digital memerlukankebolehan profesional yang baharu. Sebaliknya, ia juga memerlukan kepakaran berdasarkan teknologi maklumat atau mekatronik dalam sebilangan industri, dan ini memerlukan kapasiti kerja mengikut system data yang kompleks. Pada masa yang sama, terdapat lima penanda aras yang dapat meningkatkan syarat kelayakan 'Industri 4.0' bagi pekerja-pekerja teknikal, iaitu, kerjasama yang komprehensif dan informasi telus, automasi sistem pengeluaran, pengurusan diri dan membuat keputusan berorientasikan objek, komunikasi digital dan interaksi fungsi-fungsi pengurusan, serta penggunaan pekerja secara fleksibel.
Untuk bertindak, kita mesti bersungguh untuk menerapkan sistem pendidikan vokasional dengan karakter Malaysia itu sendiri, seperti kegigihan, keusahawanan dan inovasi. 'Industri 4.0' adalah satu revolusi dalam bentuk pekerjaan. Sama seperti automasi dan digital mengubah pengeluaran dan produk kita, tujuannya adalah untuk mewujudkan model pengeluaran produk yang sangat fleksibel dan pintar dalam digital produk dan perkhidmatan secara khas serta menghasilkan pekerja yang intensif [2]. Keperluan ini semkalin lama semakin meningkat. Produk pintar adalah salah satu ciri utama 'Industri 4.0'. Ciri-ciri utamanya adalah terletak pada bakat, perkhidmatan, data, produk, peranti dan ruang yang pintar. Maka dengan itu, profesion pendidikan vokasional bergerak maju kea rah informasi pintar sebagai teras. Yang kedua, adalah untuk membentuk gabungan struktur profesional yang menggabungkan rekabentuk, pembuatan dan perkhidmatan oleh digital pintar. Sebagai contoh, kawalan dan penyelenggaraan mesin dan peralatan tradisional dapat menggabungkan sejumlah jenis perkhidmatan dalam bidang IT dan sains seperti teknologi komunikasi, sains computer, perniagaan, pengurusan dan bidang profesional kejuruteraan. Bidang pengetahuan dalam aspek-aspek lain juga akan digabungkan dan membentuk satu corak latihan bakat profesional.
Kesimpulannya, promosi Industri 4.0 secara global telah memberi misi bersejarah untuk merubah perkembangan pendidikan vokasional yang mempu melatih pekerja-pekerja yang berkualiti dan berkemahiran.
Ir. Dr. Goh Hui Hwang
Pengasas
IPM Group
Rujukan:[1] Zinke, Gert (2018),'Vocational Education and Training 4.0 – results and core message for changes in skilled worker requirements from occupational screening', Forum 1 : Vocational Education and Training 4.0 – initial and continuing training in the digital age ,June 8, 2018, Federal Institute for Vocational Education and Training (BIBB), Germany: No publisher.[2] Ustundag, Alp and Cevikcan, Emre (2017), Industry 4.0: Managing The Digital Transformation, Cham, Switzerland: Springer.
**This Malay translation is for reference only. If the meaning of the Malay translation is inconsistent with the original English version, the original English version shall prevail.


Artikel dalam format PDF »