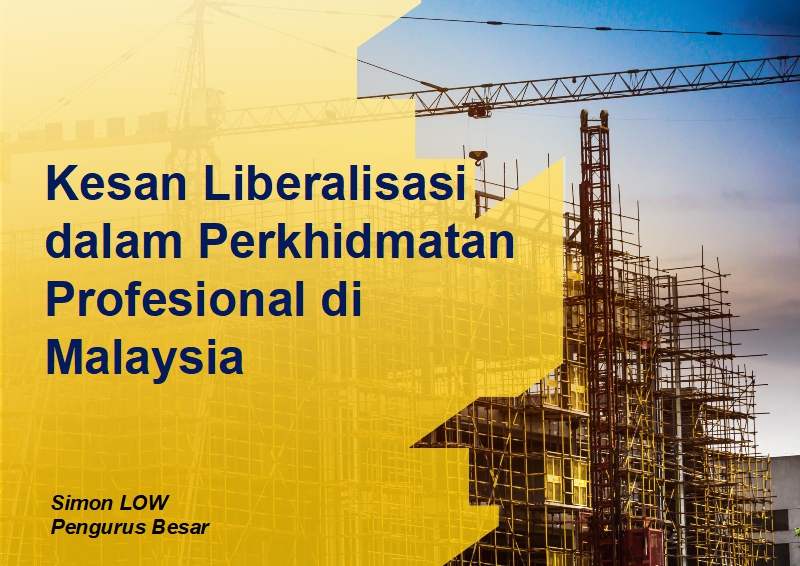 Kesan Liberalisasi dalam Perkhidmatan Profesional di Malaysia
Pengarang: Simon LOW | 27 Mei, 2018
Liberalisasi adalah bermaksud tindakan kerajaan bagi mengurangkan kawalan dalam ekonomi, sosial atau polisi politik. Liberalisasi dalam sektor perkhidmatan dilaksanakan oleh kerajaan Malaysia sejak perlaksanaan Bajet Malaysia 2012 untuk memperkenalkan firma-firma domestik secara antarabangsa ke dalam pasaran asing, menawarkan teknologi, modal, dan kepakaran ke dalam firma tempatan, secara tidak langsung akan membentuk persaingan di akalangan firma-firma profesional di Malaysia.
Liberalisasi dalam firma-firma 'Construction Professional Services' (CPS) membenarkan lebih banyak peluang bagi syarikat-syarikat Malaysia untuk melebarkan sayap pasaran domestik dan memasuki pasaran serantau atai pasaran global. Selain itu, liberalisasi memberi peluang untuk meningkatkan tahap perkhidmatan kepada klien tempatan atau pelanggan-pelanggan dengan perkhidmatan yang berkualiti dan lebih banyak kos persaingan.
Teknologi-teknologi baru akan dibawa masuk ke dalam pasaran tempatan, sebagaimana juga kepakaran asing akan membantu kekurangan tenaga mahir di Malaysia bagi sesetangah bahagian projek pembinaan. Selain itu juga, firma-firma CPS tempatan akan memperoleh kelebihan liberalisasi, contohnya sokongan modal tanpa had antara negara dan peruntukan sumber yang berkesan dan kelebihan persaingan. Tambahan lagi, liberalisasi dapat mengurangkan risiko plotok bagi pelabur-pelabur dan dengan itu juga, stok pasaran bagi negara liberalisasi akan meningkat apabila tiada penghalang.
Walaubagaimanapun, perkembangan pasaran setelah liberalisasi telah memberi tekanan syarikat-syarikat CPS tempatan di Malaysia untuk menjadi lebih berdaya saing kerana syarikat tersebut harus menyesuaikan diri dengan persaingan pasaran terbuka dengan meningkatkan kecekapan, produktiviti dan daya saing mereka dengan pelbagai cara. Ini adakah bagi meningkatkan penyertaan syarikat-syarikat asing dan pada masa yang sama menggunapakai piawaian amalan global yang terbaik.
Liberalisasi juga boleh membawa halangan kepada firma-firma tempatan dengan memberi kesempatan kepada firma-firma CPS asing memasuki pasaran Malaysia untuk mendominasi dan seterusnya mengurangkan peluang firma tempatan untuk mengekalkan tempat mereka dalam industri ini. Di samping itu, dengan adanya peningkatan pasaran terbuka, tahap perkembangan PKS, masalah bekalan rentas sempadan, produktiviti dan kecekapan tenaga juga boleh mempengaruhi keuntungan organisasi perniagaan.
Kesimpulannya, disebabkan Malaysia sedang aktif menyertai liberalisasi dalam sektor perkhidmatan, firma-firma CPS tempatan perlu bersedia untuk menghadapi cabaran-cabaran dari kemasukan firma-firma CPS asing ke dalam pasaran pembinaan domestik. adalah sangat penting bagi memastikan adanya sokongan peraturan-peraturan domestik untuk memperkuatkan lagi kedudukan dan peranan dalam industri daripada memperlahankan perkembangan sektor perkhidmatan itu sendiri.
Simon LOW
Pengurus Besar
IPM Professional Services Sdn Bhd
**This Malay translation is for reference only. If the meaning of the Malay translation is inconsistent with the original English version, the original English version shall prevail.


Artikel dalam format PDF »