Author: LAr. Susanna Nazaruddin
Field of landscape architecture encompasses all designs and structures in the landscape. The scope covers softscape, hardscape, lightscape, waterscape as well as irrigation and drainage.
Landscape architecture started taking roots in Malaysia about 30 years ago when young graduates from both US and UK came back with Degree in Landscape Architecture. Some started their own practices while others initiated the Department of Landscape Architecture in local universities. Landscape Architects (LA) in Malaysia are administered under Institut Landskap Arkitek Malaysia (ILAM) which by 2016 has close to 250 corporate members with the 'LAr.' identification.
With some similarities, the scope of arboriculture covers the practice and study of the care of trees and other woody plants in the landscape. Generally, arborists are those knowledgeable in the field of arboriculture and come from various education background such as Forestry, Agriculture, Horticulture and Landscape Architecture, just to name a few.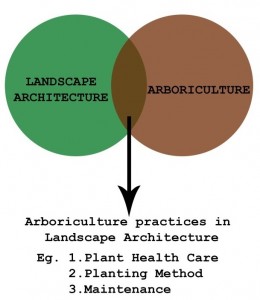 Certified Arborists (CA) are individual whom have attended ISA (International Society of Arboriculture) certification course and passed the examination, identifiable as 'CA'.
In an ideal scenario, LA work hand-in-hand with CA in designing growing spaces and caring for urban trees. Their individual expertise compliments one another and result in healthy trees growing in a conducive environment for the long-term. All in all, team effort in ensuring sustainable approaches are adhered to is the way forward for strong vigorous trees in our environment.
LAr. Susanna Nazaruddin
Co-Founder
IPM Group


 View  Article in PDF »