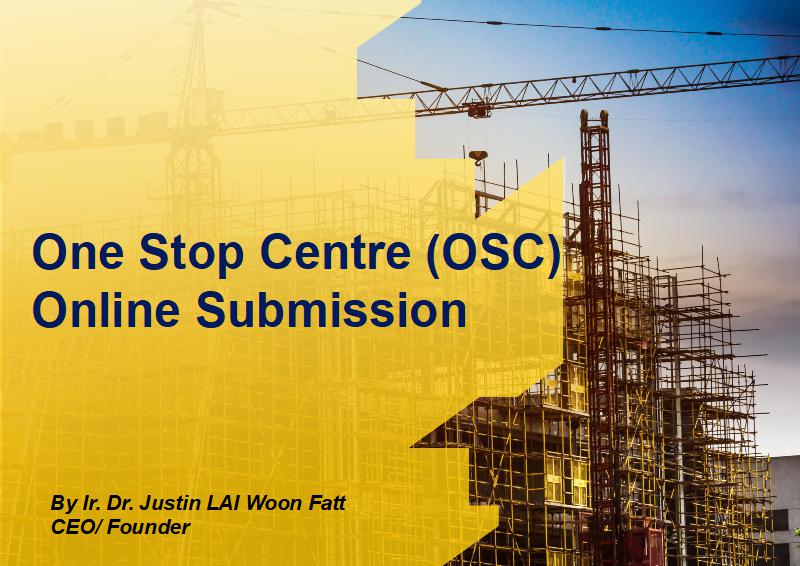 One Stop Centre (OSC) Online Submission
Author: Ir. Dr. Justin LAI Woon Fatt | 18 September, 2021
In Malaysia, the Ministry of Housing and Local Government (Kementerian Perumahan dan Kerajaan Tempatan, KPKT) is a ministry that is responsible for urban well-being, housing, local government, town planning, country planning, fire and rescue authority, landscape, solid waste management, strata management, moneylenders, and pawnbrokers. Through this ministry, OSC (One Stop Centre) online submission has been created in helping the local authority (Pihak Berkuasa Tempatan, PBT) to manage any applications that require approvals. OSC online submission system has been made use by all local authorities to assist the Principal Submitting Person (PSP) or Submitting Person (SP) to submit online applications for the development plan, making payments online, and to enable the Technical Agency to review these applications virtually and subsequently acquire outcomes through the system.
The OSC 3.0 Plus Online system (https://osc3plus.kpkt.gov.my/) was developed by KPKT in strategic collaboration with the Malaysian Administrative Modernisation and Management Planning Unit (MAMPU), the Malaysian Construction Industry Development Board (CIDB) and the Putrajaya Corporation (PPJ). The OSC 3.0 Plus Online system started on 1st July 2019 with 10 pilot local authorities and is then extended to all 89 local authorities in the Peninsula by stages. The system is also equipped with real-time tracking of application status and command, control, communications, computers, and intelligence (C4i) functions.
To check whether the local authority is included in the OSC 3.0 Plus Online system, one can go to the website and check as below: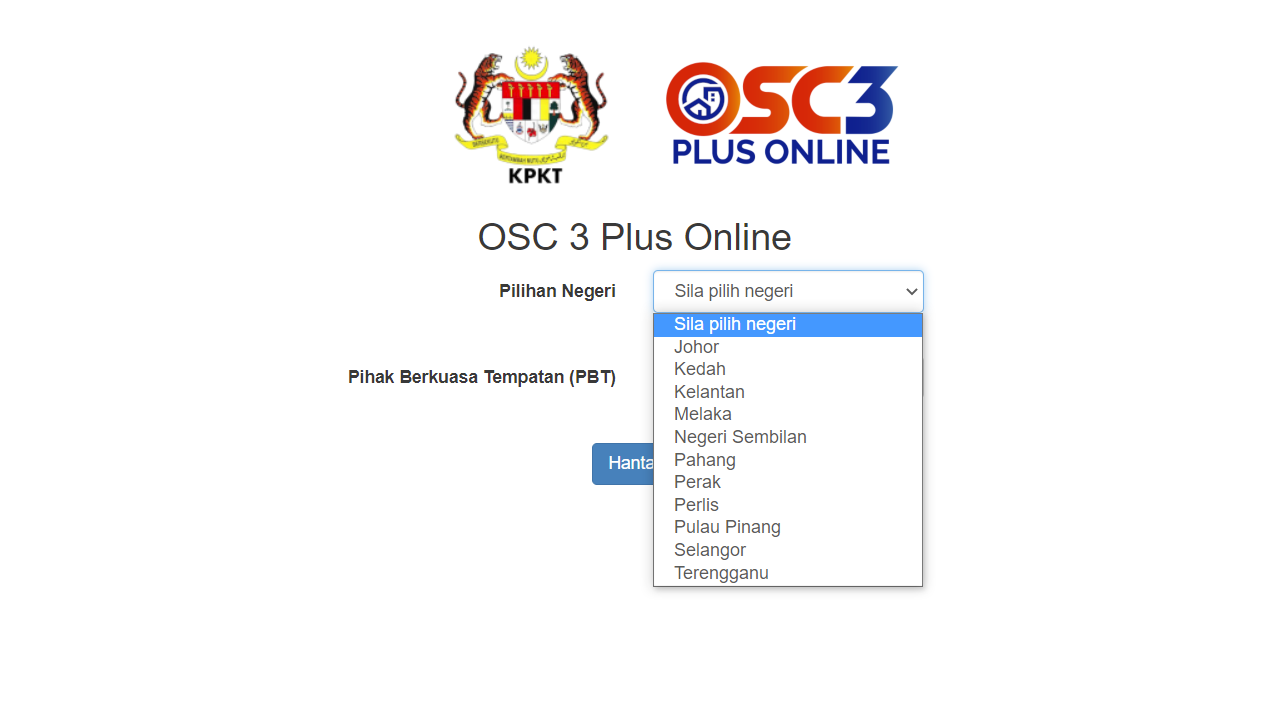 Figure 1: OSC 3.0 Plus Online
Upon selection of the state listed, only then the local authority within each state that utilize the system can be seen. From there, PSP/ SP can identify which local authority is implementing this OSC 3.0 Plus Online system. For example, development under Wilayah Persekutuan Kuala Lumpur would have to submit their application via Dewan Bandaraya Kuala Lumpur (DBKL) as they manage their own OSC online system.
WHO ARE THE SYSTEM USERS?
Principal Submitting Person (PSP) / Submitting Person (SP) consisting of Certified Town Planner, Certified Architect, Certified Engineer, Certified Surveyor, and Building Planner
Secretariat of the One Stop Center Unit (OSC) in local authority
Internal Technical Agencies (Agensi Teknikal Dalaman : ATD)
• Planning Department
• Building Department
• Engineering Department
• Landscape Department
• Other related departments in local authority
External Technical Agencies (Agensi Teknikal Luaran : ATL)
• Land and Mines Office
• State Water Authority
• Indah Water Consortium (IWK)
• Irrigation and Drainage Department (JPS)
• Fire and Rescue Department (BOMBA)
• Department of Environment (DOE)
• Malaysian Communications and Multimedia Commission (SKMM)
• Tenaga Nasional Berhad (TNB)
• Public Works Department (JKR)
• Department of Minerals and Geosciences (JMG)
• Civil Aviation Authority of Malaysia (CAAM)
• Town and Country Planning Department
• Other related departments
SIX MAIN BENEFITS OF OSC 3.0 PLUS ONLINE SYSTEM
Efficiency: Enhance efficiency and effectiveness of government delivery system
Paperless: Reduce paper usage and hardcopy circulation
Easy Access: Minimize face to face meetings as easy access from any place at any time
Online Platform: Real time submission and monitoring. Submission by the applicant directly 24/7 and distribution for reviews and comments 24/7. Online communication and coordination directly with the local authority and agency
One Time Registration: The registration of the applicant is only done once, and the applicant can submit the application at any local authority listed compared to the existing OSC Online system which requires the applicant to register at each local authority
Proper Documentation: Record user transactions digitally whereby the OSC 3.0 Plus Online system has a storage function of every activity performed by PSP/SP, OSC staff, ATD, and ATL
REQUIRED DOCUMENTS FOR OSC ONLINE SUBMISSION
There are documents that are required to be prepared prior to the online submission Depending on the local authority's requirements for different types of submission, common documents requested by the local authority are listed below:
√ Cover letter by the relevant consultant
√ OSC checklist
√ Borang A of relevant consultant
√ Professional certificates
√ Land title
√ Statutory documents of the company
√ Power of Attorney to relevant content
√ Sales and purchase agreement
√ Official land search
√ Assessment tax
√ Land tax
√ Development order approval if available from the previous submission
√ Building plan approval if available from the previous submission
√ Development proposal report (Laporan Cadangan Pemajuan, LCP)
√ Payment receipts of related payments needed to be made prior to submission
Documents required must be certified by relevant parties as requested by the local authority according to their checklist. Based on the scale of the project and type of applications, PSP/ SP may require to prepare drawings and related documents to obtain the comment letter from relevant ATL prior to the official OSC online submission. Upon OSC online submission, the local authority will review and comment accordingly if there are insufficient documents. The submitted PSP/ SP will require to amend and update online.
NEXT STEP AFTER OSC ONLINE SUBMISSION IS APPROVED
Upon the system notifying that the submission has been approved online, PSP is required to proceed with hardcopy submission of all of the documents submitted online to the OSC counter at the local authority. The number of copies to be prepared for each document and drawings will be based on the checklist requirement by the local authority.
With the approval of online submission, the local authority will also notify the confirmed amount of the building plan fee based on the calculation submitted by PSP/ SP. Payment shall be made prior to hardcopy submission as the receipt is required to be included. Some local authorities implement by imposing a minimum amount of fee in order for the hardcopy submission to be processed. The total amount to be paid will be notified by giving conditional approval to the PSP/ SP. The local authority may further comment on these hardcopy submitted drawings and relevant documents and PSP/ SP shall amend accordingly to comply with it.
Once the hardcopy submission to all departments has been reviewed and approved, an official approval letter will be issued to the PSP/ SP. This means that the proposed development complies with all requirements and by-laws.
CONCLUSION
OSC online submission especially OSC 3.0 Plus Online system indeed is an important milestone for development in Malaysia which enhance the submission process move forward to digitally platform, however there is still a limitation where not every local authority implement the same system and hardcopy submission are still needed for each local authority for official documentation. We believe when time goes by, all local authorities will be consolidated with the same online system while hardcopy submission can be omitted and replaced with a fully digitally signed submission.
Ir. Dr. Justin LAI Woon Fatt
CEO/ Founder
IPM Group
References:
[1] Manual OSC 3.0 Plus Proses dan Prosedur Cadangan Pemajuan Serta Perlaksanaan Pusat Setempat (OSC) Edisi Pertama 2019, Jabatan Kerajaan Tempatan Kementerian Perumahan dan Kerajaan Tempatan Putrajaya
[2] OSC 3.0 Plus, Program e-BIZ Clinic 'Getting Started with PACU',Kementerian Perumahan dan Kerajaan Tempatan. Source from https://www.mida.gov.my/wp-content/uploads/2020/10/20200930123046_OSC-3.0-Plus-KPKT.pdf.
[3] Soalan Lazim : One Stop Center (OSC) Online. Retrieved on 18th September 2021 from https://www.kpkt.gov.my/index.php/pages/view/270
[4] Sistem OSC 3Plus Online. Retrieved on 18th September 2021 from https://www.cidb.gov.my/en/construction-info/competitiveness/sistem-osc-3plus-online


View Article in PDF